In this article, we will understand a little bit more about WhatsApp Business on multiple PCs and bring a tutorial about how to access WhatsApp on multiple PCs (or devices)
Step-by-step to use WhatsApp on multiple PC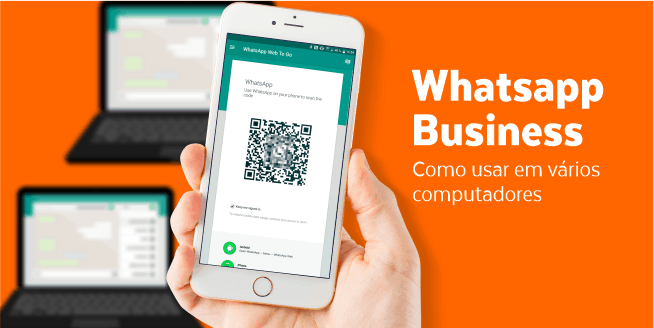 1) Run WhatsApp Business;
2) Click on the upper-right "3 dots";
3) Click on "WhatsApp Web"
4) Allow WhatsApp Business to access your camera
5) Allow WhatsApp Business to take pictures and record videos
6) Access Chatsac and start your free trial.
7) Scan the code and add the other users who will use WhatsApp with an only one number
WhatsApp Business on multiple PC – special version for companies
At the beginning of 2018, WhatsApp presented its first version of a corporative solution in the USA – the service is also available in Brazil.
Specifically adapted to the need of small companies, WhatsApp Business offers useful functions for quick and easy communication for customers.
Especially for single retailers, the new service creates the opportunity to separate the professional life from its personal life (balance between professional and personal life).
With the business profile, you introduce yourself as a company, you receive a correspondent stamp upon a successful certification, and you can keep all the information from relevant contacts.
Next, we will present in detail each function from the business version.
However, the most important information in advance: the service – like the classic version for individuals – is free and, also, compatible.
WhatsApp Business functions – overview
WhatsApp Business on multiple PCs is a completely independent version of WhatsApp that offers many resources that can have great benefits for companies.
Beyond the common functions from the classic version, the companies have access to the following resources:
Automated messages
The WhatsApp chatbot, by saying this way, because the customers are not interested to know if and they are offline.
Or else, they are so professionally involved that they can (only) be in touch with you only at night.
In order to not have any new or existing clients angry because they don't receive a quick response, the business version of WhatsApp Business offers an option to send automated messages during periods of absence, that can be planned separately and deactivated when necessary.
Absence is over
Default salutation messages are also possible when a customer meets us for the first time.
The same way, for example, send automated messages after two weeks of inactivity.
The advantages for you: it saves your time and direct customer service,
Contact information and customers
Storage of all relevant personal data, such as an address, company profile, e-mail, localization, website, and working hour.
Statistics Messages
You can quickly check how many messages you received, read, send, and delivered.
It can also be useful when it is needed to calculate individual services and consulting services, for example.
Quick response
In a hectic daily routine of work, you don't always have time for answering individual questions in detail for each customer.
WhatsApp Business on multiple PCs has also a solution for that.
It is only necessary to create the most common predefined answers and define a keyword for each of them.
If you type this keywork starting with "/', the app will convert the answer automatically into a standard answer and you can focus yourself to other activities.
Chat Tags
A useful resource to organize the customers' chats sensibly and manage them as well.
By default, five different tags were already created, but all of them can be expanded as needed.
More functions
All the default functions of WhatsApp for companies that you know from the classic version.
Whether by sending photos, videos, or voice messages, the call function, or the capacity of blocking contacts.
Moreover, of course, all the variants of commercial messages are protected by peer-to-peer cryptography.
Using WhatsApp Business
The app is available for free in Apple App or Google PlayStore for anyone.
Keep in mind that you will need a smartphone with two SIM slots if you want to use both Classic and Business WhatsApp on the same device.
Otherwise, there is no restriction.
WhatsApp forbids sending newsletters
The so-called broadcast transmission from the "normal" version of WhatsApp has been used until now as a good alternative compared to the classic newsletter sent from companies.
No wonder, the open rates were higher, and the number of contacts was limited up to 256.
In legal terms, however, this method was always in a gray zone.
The operator made it clear: the usage of WhatsApp to send the newsletter is not allowed.
As of September 7th of 2019, legal action may be taken against those who fail to comply.
Until now, however, this only applies to companies that use the classic version of the app to have this kind of communication.
However, it is expected that the commercial version may be not used to send a mass message.
How to use WhatsApp Business on two PCs
It begins with WhatsApp Web connection, using this version on a computer from the famous app and then follows the steps:
● Step 1: using your smartphone, run the WhatsApp Web
● Step 2: scan the QR code and connect
● Step 3: Access Chatsac and start your free trial
All set. Now you will be able to use WhatsApp Business on two PCs at the same time.
WhatsApp Business Accounts in two variants
The popular WhatsApp differs from the business app for small companies' owners and in the WhatsApp Business API for medium and big companies.
On the other hand, the discussed function in this article focuses on WhatsApp Business advantages on multiple PCs.
Why?
Because you will have the opportunities to implement all our tips.
Why is WhatsApp Business on multiple PCs useful?
There are many reasons for that.
Firstly, WhatsApp is one of the most important apps for many smartphone users – regardless of the target group.
The age group is from young to elderly people, place of residence, gender, socioeconomic characteristics (for example, educational background, job, etc.), and another criterion of the target group will hardly apply to the WhatsApp target group.
How the WhatsApp to target group is huge and almost everyone uses this app, the most commons WhatsApp function will be familiar to everyone.
And WhatsApp is continuously expanding its function, like the dark mode or the introduction to ID Face recognition to expand more security.
And WhatsApp Business on multiple PCs complies with another criterion.
It is hard to believe, many people fear the first contact by phone.
A non-binding and uncomplicated text message are much more interesting and affectional.
What are the advantages of WhatsApp for marketing?
As a very new discipline, Marketing Messenger raises questions about why companies should handle it.
There are some good arguments for that:
● Distribution: WhatsApp services are popular in all ages. With more than 1.5 billion actives users per month, WhatsApp is undeniable the leader of its category, right after Facebook Messenger.
● Personal address: how WhatsApp is used mainly among friends, family, and some other contacts, the address here is automatically personal, even if a company and the chatbot are on "the other side of the line".
● Visibility: there is no Spam filter on WhatsApp Business that blocks messages from companies before arriving at its receiver.
● Simplicity: WhatsApp Business communication is simple, straight to the point, quick, and can be easily used on a bus or on the way to work.
How to use WhatsApp Business on multiple PCs
Many may say it is impossible to use, but it is not true. You will be able to use WhatsApp Business on multiples PCs if you follow these simple steps:
● Step 1: Access the WhatsApp Web on your computer
● Step 2: Install WhatsApp on your smartphone and scan the code
● Step 3: Access Chatsac and start to use the free trial of the system
After following these steps, you will certainly be able to use WhatsApp Business on multiples PCs.
Tell us in the comment below your experience.
Lamentamos que este post não tenha sido útil para você!
Vamos melhorar este post!
Diga-nos, como podemos melhorar este post?